Hexagonal Wire Mesh Product Features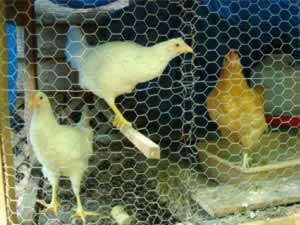 It is a flexible woven
hexagonal wire mesh
. Site combination without welding, corrosion resistance, basketball and volleyball courts. Tennis courts and stadium, and often affected by external shocks field fence hexagonal best product selection. Features are as follows:
A. Beauty products have durable features, convenient transportation and installation;
B. Product installation adaptability. May be connected with the column position with undulating ground can be adjusted up or down;
C. Guardrail lateral four bending stiffeners. Fence to make waves in the overall cost increase much at the same time. So that the net surface strength and beauty increased significantly. It is one of the most popular at home and abroad fence.
D. Guardrail Column using pieces of concrete pouring. Low construction cost. The overall strength after the product is installed overall stability. According to customer requirements can be used PVC spray has a good anti-corrosion and decorative effect. Harmonious overall appearance. Good durability, beauty, vision, protective performance
Uses: Suitable for tennis, football, volleyball, meet the needs of schools, enterprises, institutions and fitness facilities. Its neat appearance, impact resistance and flexibility. Residential buildings in the stadium needed more isolation. Hexagonal wire mesh widely used in highway, railway, highway fence facilities. Also used for interior decoration. Raising chickens, ducks, geese, rabbits and zoo fence. Mechanical equipment, protective nets, machinery and equipment of the transmission grid. Sports venues fence, the road green belt protection. Hexagonal wire mesh in production of a box-shaped container. Filled with rocks and other cage, become gabion. Also used to protect and support the seawall, hillsides, road and bridge, reservoirs and other civil engineering. Flood control and flood of good material. It can be used for the manufacture of handicrafts. Warehouse, tool room refrigeration, strengthening protection, marine fishing fence and construction sites, rivers, slope fixed soil (rock), residential security protection.
Hexagonal wire mesh dip method and process of:
For hexagonal wire mesh Jin Su is one of preservation methods. China is now more mature approach is: Powder Dip method. It originated in the fluidized bed method, a so-called fluidized bed is initially applied to gas generating furnace oil catalytic cracking in Winkler. Further development of the solid-gas two-phase contact processes. After gradually for metal plastic aspect. So sometimes still called "fluidized bed coating method." The actual process is added to the bottom of the powder coating porous permeable container (flow channel) in. Fed by the compressed air from the treated. Flip the powder coating to achieve "flow state." Into a fine powder scattered evenly distributed.
Factory